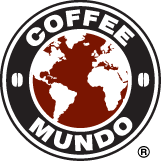 SUSTAINABILITY

Coffee Mundo® and Sustainability

Sustainable Coffee
Coffee Mundo® has a strong commitment with the Sustainability aspect and therefore strives after using Sustainable Certified coffees for the strict selection as many as possible. As you can see already more than half of all Coffee Mundo® Special Origins are certified with a Sustainability Label as FairTrade / Max Havelaar, EKO and Rainforest Alliance.
More information about these certifications can be found here:
FairTrade / Max Havelaar
EKO
Rainforest Alliance
Sustainable Packaging
Besides the fact that Coffee Mundo® uses Sustainable Certified coffees, it is the Packaging aspect that is just as important. In fact, the global waste continues to grow bigger and gets more difficult to process.
That is why Coffee Mundo® composed an aluminium-free packaging in cooperation with a large packaging producer, on which we nevertheless have achieved the desired preservation barrier. Most of all coffees are packed in bags containing aluminium. Although aluminium can be recycled it is made of bauxite ore, one of world's most pollutive industries.
Coffee Mundo® does not only think about you, but also thinks about the world!
drag your product into your shopping cart