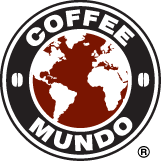 THE PROCESSING
The Processing
Within a few hours after the harvest the flesh of the berry is removed to take out the coffee beans. There are 2 methods of processing the coffee berries : the wet process and the dry process.
The wet process: in the wet process the ripe coffee berries are being sorted by immersion in water for about 2 days. After this the skin of the berry and the pulp is removed. Then the beans are washed and sorted in small water canals. Finally the beans are dried. This method is very labour-intensive and expensive, but it offers a fruity, more refined taste.
The dry process: in the dry process the ripe coffee berries are being dried in the sun on large concrete or brick patios for about 2 to 3 weeks until the coffee beans will come loose from the fruit. The drying coffee berries are raked by hand regularly to prevent mildew. Finally the coffee beans will be separated from the dried fruits and sorted. This method provides a powerful, less aromatic and sweet taste.
The green coffee beans remain.
drag your product into your shopping cart